District News
Author : Editorial Board, 01 - Feb - 2017
IVA TRISSUR INSTALLATION on 20th January 2017 - Thrissur

IVA THRISSUR INSTALLATION
Thrissur district IVA installation was held at the Vets' square Thrissur, 20th January 2017. The oath of swearing-in was delivered by Dr K D Paul, former president. The gathering was welcomed by the KGVOA president, Dr Pradeep C A and presided by Dr Sandhya G Nair, president IVA . The function was officially inaugurated by the DAHO, Dr K S Thilakan. Many senior vets including Dr Girisan, Dr Usha Pushkarand Veterinarian 's Welfare Society president Dr N R Harshakumar were prominent among those present. The session was concluded by a class on LSGD schemes, based on the new procurement manual, by Sri. Raveendranath, KILA faculty. IVA secretary, Dr Jyothy Sreedharan, delivered the vote of thanks.
IVA THRISSUR TALUK LEVEL GENERAL BODY
The first Taluk level general body of Thrissur including Thrissur and Thalapily was convened on 27th January 2017. Dr Pradeep C A, president KGVOA welcomed the gathering. Dr. Sandhya G Nair presided the event. Dr. K R Arunkumar addressed the gathering. This was followed by the selection of Taluk level officer bearers. A preliminary meeting prior to the Lady Vets' Day celebrations was also summoned which was addressed by Dr Bindya Liz Abraham, state vice president, (lady) IVA. Important decisions regarding the celebrations were mainly discussed during the sitting.
Editorial board, 31 - Jan - 2017
Activities of IVA Ernakulam.unit for January 2017 - Ernakulam

The installation.of IVA unit Ernakulam was conducted at Aluva on 04.012017.President Dr P A Basheer,Secretary Dr R Mini,Treasurer.Dr R Mini and State Committe members assumed charge of IVA unit 2017..The activities of IVA for the year 2017 was inaugurated by Dr Renuraj.IAS Sub collector Ernakualm.She stressed the role of Vetrinarians in disease control and prevention in animals and control of zoonotic diseases in human.The activities of IVA for the year 2017 commenced with the transfer of fund collected for medical expenses from IVA members to an attendant who has to undergo surgery at NIMHANS Bangalore.An amount of Rs 42000 was collected from members and equally contributed to two needy employees and a dependant of a former employee of AHD
Editorial board, 31 - Jan - 2017
Installation ceremony of the office bearers of IVA Idukki was held on 07.01.2017 - Idukki

A combined General Body meeting of IVA & KGVOA was held on 07.01.2017 at 12pm at Sicilia Auditorium,Thodupuzha. General Body paid homage to late Smt.Prema Thinakaran (w/o Dr.K.Thinakaran ,VS ,VD Puttady). Dr.Justin Jacob Adhikaram (President KGVOA) presided the meeting. Dr.Nisanth .M.Prabha (Vice President KGVOA) welcomed the gathering. Presidential address was delivered by Dr. Justin Jacob Adhikaram. Report on IVA State convention was presented by Dr.Krishnadas P (Secretary IVA Idukki) and report on KGVOA State convention was presented by Dr.Rajesh P B (Secretary KGVOA Idukki) . The general body congratulated the office bearers of IVA and KGVOA for the activities in last year especially for colourful world zoonosis day celeberations.
Installation ceremony of the office bearers of IVA Idukki was held on 07.01.2017 at Sicilia Auditorium at 2 pm. Meeting started with a silent prayer. General Body expressed condolences on the demise of Smt.Prema Thinakaran (w/o Dr.K.Thinakaran, VS, VD Puttady). Dr.Byju K.(State Committee member) welcomed the gathering. Dr.Indu Narayanan administered Veterinarians oath. Dr.Hameed S A (Senior Veterinarian) inaugurated the activities for the year 2017 and administered oath of office to the newly elected office bearers. Dr.Jacob K M (President) delivered presidential address. Dr.Krishnadas P (Secretary) explained the need of association activities and proposed a plan of action for the year 2017. Dr.Biju J Chemparathy, Dr.Justin, Dr.Prabhakaran Pillai, Dr.Dinesh C N, Dr.Rajesh V R, Dr.Rajesh P B, Dr.Mariyamma Thomas, Dr.Sunil V B , Dr. Reghunathan. B, Dr.P.V.Geethamma offered felicitations. Dr.Nisanth M Prabha cited versus from his newly published poetry 'Hrudayathilenthundu Bakki'. Subscription collection campaign was inaugurated by collecting first subscription from Dr. Jacob K M. In general discussion it was decided to convene a meeting of the building Committee for construction of new district building on 26th January, 2017, to conduct a family tour in pooja holidays and discussed the plan for the CVE programmes of coming year. Newly joined vets Dr.Jyothis (VS VD Vandiperiyar) & Dr. Anu Sudhakaran (VS VD Thekkumbhagom) was given a note of welcome to the association. Dr.Divyamol Thomas (State Committee member) delivered vote of thanks. Meeting ended at 4pm.
Author : Editorial Board, 20 - Nov - 2016
Send off to vets and a Lecture on Income Tax - Idukki

A send off meeting has been organized for the vets transferred from Idukki to other districts on 06.10.2016 at Hotel Sicilia Auditorium. Dr.Jacob Mathew, Dr. Shejo Jose, Dr.Anees were the vets. Dr.P.V.Narendran (President, IVA Idukki) chaired the meeting & Dr. Mariyamma Thomas (State Committee member, IVA) made the welcome address. Felicitations by Dr.Dinesh, Dr.Sheela Saly, Dr.Lal. G.Mathew, Dr.Justin Jacob Adhikaram (President, KGVOA Idukki), Dr.Joby K J & Dr.Krishnadas (Secretary, IVA Idukki). Dr.Geethamma (State Committee member, KGVOA) presented mementos to concerned. Dr.Rajesh P B (Secretary, KGVOA Idukki) offered vote of thanks. A lecture by Sri.Manikantan.P., Regd. Tax Practitioner from Thrissur, on Income tax and TDS E filing was organized in association with KGVOA, Idukki and was handled
Editor, 04 - Sep - 2015
Activities of Pathanamthitta District for the month of August 2015 - Pathanamthitta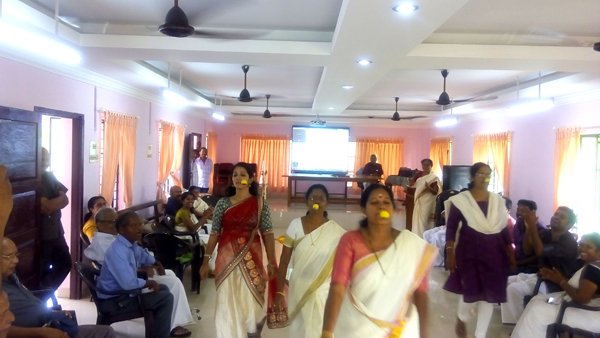 IVA Pathanamthitta unit arranged onam celebrations at Thiruvalla in a grand manner. The programme included Athapookkalam, Onakkalikal, vadamvali and Aranmula vallasadhya. The programme was inaugurated by Dr.Anitha, Deputy Director, ADDL Thiruvalla. All members including retired vets actively participated in the programme.
Secretary,IVA, Pathanamthitta
Dr.G.Sukumara Pillai (President) Dr.Sreejith N. Bhaskar (Secretary)-iva, 17 - Aug - 2015
onam celebrations - Alappuzha

IVA Alappuzha, along with KGVOA unit is celebrating "ONAM-2015" on 25'th August at Municipal square, Alappuzha. Inter Taluk "Onappookkalam: competition is arranged along with 'Onakkilimas'- variety competitions for children and family members.
Dr. Sukumara Pillai, 22 - Jul - 2015
CVE by Dr. Vinodkumar P R - Alappuzha

IVA ALAPPUZHA
A full day CVE on "RECENT TRENDS IN PET ANIMAL PRACTICE" was conducted at Ramavarma District Club, Alappuzha on 11.07.2015. The session was handled by Dr.P.R.Vinod Kumar, Veterinary Surgeon, District Veterinary Centre, Kozhikode.
The CVE programme for the month was inaugurated by Dr.G.Sukumara Pillai, President, IVA, Alappuzha. Dr.R.Mini, President, KGVOA welcomed the faculty and members and Dr. Jyothimon P B. expressed vote of thanks.
Dr Vinod TG, 06 - Jul - 2015
IVA activities conducted in June in Trissur - Thrissur

A sent function was arranged by IVA thrissur on 3/6/15 at perinchery building to Dr.T.I.Mohanan who retired from the service on 31st may 15 .The programme was presided by IVA president Dr.Giridas.Dr.T.G.Vinod kumar welcomed the gathering.Dr.Sobhana(DAHO),Dr.U.S.Ramachandran,Dr.Manoj Mathew,Dr.kiren menon,Dr.Sunil kumar,Dr.padmaja and Dr.Binod spoke on the occasion.
CVE programme on systematic clinical approaches to field level cases was arranged at veterinarians square thrissur on 6/6/15.Session was handled by Dr.P.S.Abhilash,VS,VD,Athirappilly.
CVE programme on prevention and control of heamoprotozoan disease in cattle was arranged on 20/06/15 at veterinarians square thrissur.session was handled by Dr.K.Vinodkumar,Asst Prof,KVASU.The main area of discussion was on theileriosis and anaplasmosis.
Dr. Sreejith B, 05 - Jul - 2015
Taluk level GB's held in June - Alappuzha

Taluk level GB's were organized at Kuttanad on 15 June, 20th June in Chengannur,.25th of June at Ambalapuzha and 23rd of June in Karthikapally. Cherthala Taluk GB was held on 26th with a CVE Programme on - Rabies control by Dr. Jayachandra Kamath, SVS, Kanichukulangara.
Editor, 29 - Jun - 2015
IVA activities June 2015 Ernakulam ( Dist ) - Ernakulam

IVA Ernakulam unit started Taluk level CVE programs in association with Kerala State Veterinary Council . First Taluk level CVE is had been conducted at Parur taluk on the topic Haemaprotozoan Diseases of animals by Dr Dhanya. V. Pai . Twelve Veterinarians participated in the classes and there was a group discussion and experience sharing session in which the practicing field veterinarians shared their views, approaches and treatment strategies towards protozoal diseases